Long Shot Describes Piazza's Winding Path From Sheltered Catholic Boy To Manhood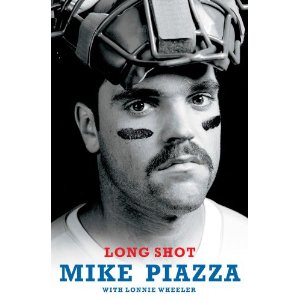 Mike Piazza's life story Long Shot hit bookstores across the country this week and like all baseball biographies Piazza's story provides a candid behind-the-scene glimpse of the life of a big-league ball player.
Piazza, who was groomed for baseball success by his self-made father and selected by the Dodgers in the 62nd round of the 1988 baseball draft went on to become the National League's rookie of the year in 1993 and play on twelve National League All-Star teams.  His 396 homeruns, the most ever hit by a catcher, set a record that still stands.
In Long Shot Piazza gives his honest, insightful, humorous and sometimes charming perspective of his confrontation with Roger Clemens in the Subway series and 2000 World Series against the Mets' cross-town rival Yankees and the thrill of hitting the game-winning homerun in the first major-league  game played in New York City following the terrorist attacks of  9/11.
Piazza reveals a bit of his off-the-field love life as well. As the captain and franchise player of the Los Angeles Dodgers, Piazza had his share of dates and relationships with beautiful actresses and starlets including Debbe Dunning, the "Tool Time girl" on the popular ABC sitcom, Home Improvement and Anita Hart, an actress and stunt woman Piazza met while playing a cameo role on the action drama series, Baywatch.
Yet throughout his career in LA, Miami (for 8 days) and NYC, Piazza stayed close to his strict catholic upbringing avoiding one-night stands and the baseball groupies at every stop.
Two stories from the book, one early in Piazza's tenure with the Dodgers and the second when Piazza lost his virginity illustrate the catcher's tentative and awkward path out of the sheltered baseball-only focus of his youth into manhood.
Once a few of us who had done something or other exemplary went to dinner with Tommy [Lasorda] and [longtime major league coach, manager and scout] Steve Boros, we spotted a cute blond girl with what seemed to be her family. Her brother or whoever it was came up to our table and said, "My sister is here and she would be very interested in one of these young men taking her out for the night."

Tommy said, "Which one?"

"She said the guy in the red shirt."

That was me.  I gave out a little "woo!" Pretty girl from Canada as it turned out.  I felt like it was quite an accomplishment to when I made it to second base that night. I hate to sound juvenile about it, but at that time I was juvenile, in a lot of ways. For one, my father considered girls to be among the distractions that he needed to keep out of my path.  I also had my mother's sense of morality instilled in me. I'd been sheltered, somewhat. Combine all that with my focus on baseball, and there was a lot of elements working together to make me socially tentative."
And this story of Piazza describes losing his V-card at the ripe old age of 21:
Actually I did lose my virginity that summer, which was probably no coincidence.  I won't embarrass her by using her name, but she was a Greek girl from Chicago – a blond Greek, a little older than I was, far more mature, and extremely sweet.

My sexual experience went a little deeper than just the sheltering and social awkwardness that I alluded to earlier.  I wouldn't say that I'd been a prude, but I was directed by a moral compass that pointed me away from things that might be frowned upon by Catholicism.  Even when I started in pro baseball, I always found a church to go to.  Girls were around in those days, and I sometimes did the bar scene, but I wasn't running around with my choke out.

When I met the Chicago girl – we were in Clearwater playing the Phillies – not much happened, but we kept in touch.  Then she flew down and rented a car, which made an impression.  I thought, wow, she's got it going on – her own job, her own money, her own life.  I also admired the fact she cooked for her father, who had a heart condition, and made sure he ate right. Altogether, she was so domestic, caring, and responsible that I think it broke down my moral barriers a bit.  Plus I was like twenty-one, and feeling the urge to be adult.  On top of everything else, it definitely aided the cause that this thoughtful, attractive girl was also very patient. Bear in mind, I didn't even date in high school. I was nervous as hell, and when we were ready to go, I said, "All right, well, you know . . . I'm a virgin." She was floored.