Hot Wife – Kim DeJesus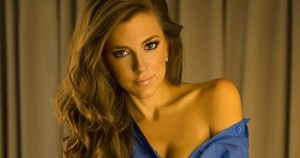 Actress, model and Amazing Race 23 contestant, Kim DeJesus, is married to outfielder David DeJesus. In July 2015, David DeJesus was traded to the Los Angeles Angels of Anaheim, the sixth MLB team with which he has played in his career.
Kim upset Tampa Bay fans with her super-happy tweets about David's trade to the Angels. She responded with tweets about how she was grateful for the TB organization and how much David loved it there, but said she was really happy because she lives in LA and now he'd be able to see his son everyday. Her explanation didn't make TB fans much happier.
There have been rumors that the couple had split, mainly because they lived on separate coasts for so long, but as of the writing of this post, they are still together.