Torn Between Two Lovers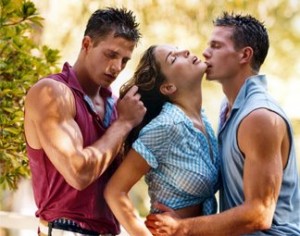 Remember that old Mary McGregor song, Torn Between Two Lovers? "Torn between two lovers, feeling like a fool, loving both of you is breaking all the rules…."
That was me last night while I was watching the Giants – D-Backs game.  I'm a true Giants fan, and I was a fan many years before they became World Champions in 2010.  Madison Bumgardner was on the mound, pitching very well, which was also great news for me because Bumgardner is on my fantasy baseball team.
Then Cliff Pennington came up to bat for Arizona, and I said, "Ok, Cliff, let's get a home run now." My husband looked at me with an expression of horror on his face and said, "Why are you saying that?" I answered without hesitation, "Pennington is on my fantasy team."
That's when it hit me. I gasped.
Not only was I rooting against my beloved Giants, both both the pitcher and the hitter in this contest were on my fantasy team. One doing well meant the other didn't.  There had to be a winner and a loser, but the real loser was going to be my fantasy team.
As I watched the pitches fly, I knew I was torn between two lovers. That made me both celebrate and wince at each pitch and every swing.
Who won the battle?  Bumgardner (of course), but it didn't matter.  I felt dirty.
The last game of the series between these two teams is tonight, and Lincecum will be on the mound for the Giants. Lincecum isn't on my team so I don't have to worry about having a repeat of last night.
I don't mind having two of my fantasy players performing on the same evening, just not at the same time.  Wait a minute, that could be fun……