Seventh Inning Stretch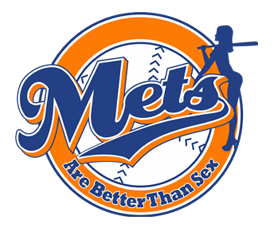 News Flash! The New York Mets will NOT be better than sex in 2013!
In fact the Mets haven't been better than sex since the Cardinals beat them in game 7 of the National League championship game seven very long years ago in 2006.  Four straight seasons under .500 and a meager 28,000 fans per game, 17th in the Majors, even the most socially awkward Mets fan will see more action between the sheets than the Mets will generate at Citi Field this year.
Honestly, how could they be better than sex after an off-season like the Mets just had.  Nearly bankrupt and still struggling to regain his financial footing after losing a reported $700 Million in the Bernie Madoff Ponzi scheme, owner Fred Wilpon unloaded Cy Young Award winner R. A. Dickey, outfielder Jason Bay and the Buffalo Bisons, the team's minor league Triple AAA affiliate.
Yes, David Wright, widely regarded as the best third-baseman in baseball and fresh off negotiating a $138 Million dollar 8 year contract is still at the hot corner and 25 year old left-handed power hitter Ike Davis who hit 32 home-runs in 2012 remains at first-base
Even with these two All-stars, however, the always feisty and intense manager Terry Collin will be hard pressed to generate much excitement from this line-up.