Pre-Season Speculation about the 2012 World Series Champs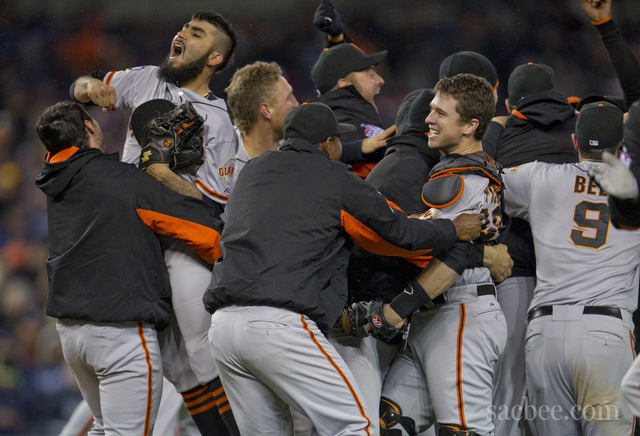 Just about everywhere you look in the baseball media you can find someone's prediction about how the Giants are going to do in the 2013 season.
Will they make the post-season again because they have essentially the same roster they had last fall? Will they tank this year like the Angels did in 2003 or will they soar like the Phillies in the several years after their 2008 World Series win?
Let's face it. Before the 2010 and 2012 seasons started, no one was predicting World Series victories for the Giants (except for diehard Giants fans, of course). That was easy to understand because they finished the 2009 season 7 games back in the NL West and they ended the 2008 season 12 games back and well under .500. In 2011, they finished 8 back in the division. While some were sure that was because of Buster Posey's  injury, many were unsure if he'd be back at full strength in 2012. Surprise! He was.
If you look at the fantasy baseball player rankings right now, you'd never know the Giants won the Series in 2012. You'd be hard pressed to find a Giant on anyone's overall top 10 list or position top 10 list. The only exceptions are Buster Posey, Matt Cain and sometimes Sergio Romo (depending on the list), and they are on position lists.  I have yet to see them in the top 10.
We can speculate forever about how they did so well without a cadre of high dollar baseball stars.  It could be a tribute to Bruce Bochy's management skills (and I think there is much to be said for that explanation).  It could be that there's still something to be said for assembling a group of competent team players rather than a collection of individuals based on individual stats.  It could be dumb luck.
In fact, it seems like the "dumb luck" explanation is the most popular among most sports writers. They go on and on about how it wouldn't have happened if players on other teams hadn't choked or if some of the Giants players didn't play unexpectedly well. All the way through the post-season in two years out of three?  Oh, come on.
And why didn't they expect Barry Zito to have a great year?  He recently got married to one of the hottest women on the planet. You don't think that would help his game?
Sometimes the stats just don't tell the whole story. A lot of folks don't get that even when they've been wrong – twice.
I think the Giants are poised to have another great year, making it to the post-season, at minimum.  What's your speculation for the Giants for 2013?
(Photo from sacbee.com)