I Love Cherry Pie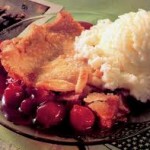 I love cherry pie.  I'm not speaking of the double meaning of cherry pie that alludes to sex, but you do know what that means, right? If the term "pie" refers to the part of the female anatomy that a guy accesses if he reaches third base, and "cherry" indicates a female who has never rounded the bases before, then "cherry pie" would mean…..?
I just heard a collective, "Oooohhhh….."
But I'm talking about  real cherry pie right now, the kind with cherries and crust. I love it.  Always have. Not only that, but I love all cherry desserts.  So, this will be a place to share cherry recipes.  If you've got some good ones, please email them to us and we'll include them here for others to enjoy, too.