Hooters Girl Fields Live Baseball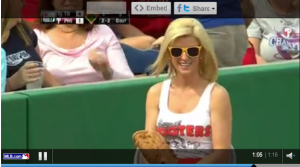 What do you do when you blow a routine play in front of 20,000 some odd Phillies fans down in Florida to catch a bit of spring training action?
Well, if you're a Hooters girl who knocked down a fair ball hit right over the third base bag Sunday and hands it to a little boy in the stands before realizing the ball she had just handed to the kid was in fact, in play, you cover your face in your first baseman size mitt, take your sunglasses off and flash an adorable smile.
Here's the link to the video on Yahoo Sports as Phillies play-by-play guy Scott Franzke and color commentator Gary "Sarge" Matthews describe Hooters girl's reaction to one of her life's most embarrassing moments as quickly realizes her mistake, takes a deep breath, removes her sun glasses and has a good laugh at herself.
We don't know what was more attractive; the girl's graceful reaction, her charming smile or her very short orange shorts.  You decide.