Happy Birthday Babe!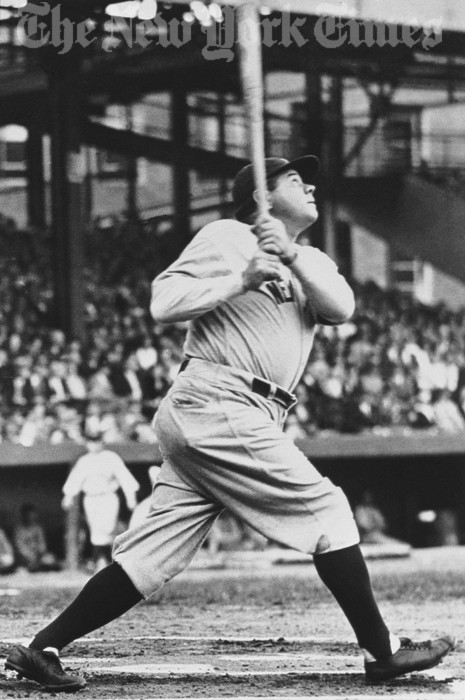 Babe Ruth, the man credited for changing baseball from a low-scoring, speed-dominated game to a high-scoring power game, would have celebrated his 118th birthday yesterday.
While much is known about his 22-year major league career, Ruth set career records in his time for home runs (714), slugging percentage (.690), RBIs (2,213), and on-base plus slugging (1.164), few speak about Ruth off the field antics where his reputation for "scoring" easily rivaled his on field performance.
Off the field though married twice, Ruth wasn't what you would call a fanatic about his wedding vows.
According to Ruth biographer Wayne Stewart, Ruth had numerous affairs and fended off many a paternity suits during his early days in the big leagues.
Another biographer noting Ruth's reputation as a partier and drinker, noted Ruth's parties sometimes involved entertaining "groups of naked women in his hotel room."
It was no secret The Babe had a number of vices; he drank heavily, had a very foul mouth, ate way too much and tended to drive his car way too fast.  He stayed out late, completely ignoring team curfews and missed most of the 1925 season due to complications from gonorrhea.
Babe Ruth is reported to have paid journalists to keep his personal affairs secret.  In the 1920's there was no Internet, no cell phones or texting, and no television, let alone cable television.  Unless a fan was out at the bar, worked at a hotel The Babe visited, or was in the same vicinity as Ruth, they would have not known anything about what he was doing.
Women threw themselves at Ruth. They wrote letters propositioning Ruth and even offered themselves to Ruth as he passed by on a moving train. One biographer likened Ruth's effect on women to the effect the Beatles would have on women forty years later.
The same biographer told of night when a couple, both friends of Ruth, shared a hotel suite with Ruth.  Ruth brought a woman back to the suite and ". . .they shared noisy relations, after which the Babe came out to the common room to smoke a cigar. The next day, the couple asked how often Ruth had laid the girl. "Count the cigars," replied Ruth. [The couple] counted seven butts in the ashtray."
Bill Veeck, a Chicago sports promoter who at various times owned the Cleveland Indians, St. Louis Browns and Chicago White Sox, called Babe Ruth "A swashbuckling hero. A man of gigantic appetites: he ate more, drank more, chased more girls… and caught more too."
So for changing the game of baseball and setting the standard for off the field eating, drinking, chasing and screwing, Home Runs & Cherry Pie wishes the Babe a happy 118th and awards him our very first All Star Cherry Gobbler Award.  Thanks for setting the bar high, Babe!