Easy-Peasy Crock Pot Cherry Cobbler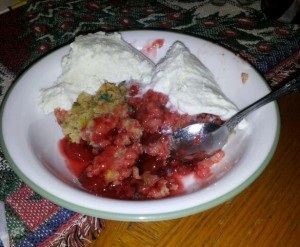 Cherry Cobbler in a crock pot?  Seriously?  That's what I thought the first time I started making desserts in my crock pot. It seems strange, but some desserts actually come out better in a crock pot than in a conventional oven.
This is one of the easiest cherry cobbler recipes I've ever tried, but like most recipes, I modify it, so I've included both the real recipe and my modification.
Ingredients:
1 – 21 oz can of cherry pie filling (I use two cans, sometimes I use three.  What can I say?  I love cherries!)
3 Tbs. evaporated milk (I usually don't have that, so I use regular milk)
1 egg
2 tsp of cinnamon  (I don't measure the cinnamon. I just shake it in until I feel like stopping).
1 3/4 cup of cake mix – any flavor (Chocolate is to die for! Regular white cake is more traditional. The photo shows the cobbler with confetti cake, which I thought would be fun, and it tastes great, but the green "confetti" specks make it look terrible. )
Spray your crock pot (the inside, of course) with non-stick spray and then put in the cherries.  Cook on high for 30 minutes (but it's ok to go 45 minutes to an hour; the point is to get them hot).
Stir all the other ingredients together until  the mixture is sticking together, but crumbly.
Spoon the mixture on top of the cherries , cover, and cook for 2-5 hours on LOW until you can stick it with a toothpick that comes out clean. (It usually takes about 3 hours in my crock pot).
It can be served cold or hot, but serving it hot with vanilla ice cream is particularly yummy.