A Manly Cherry Clafoutis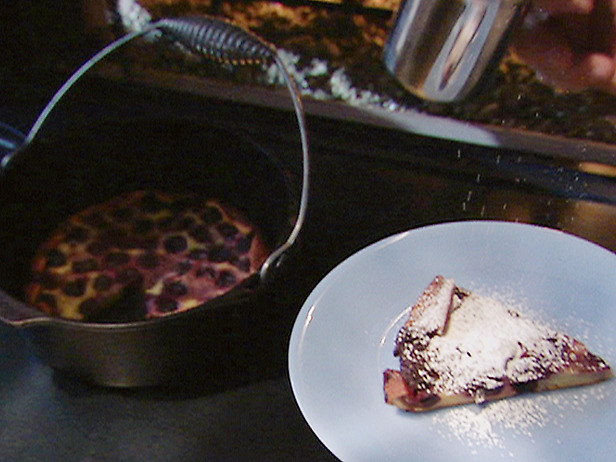 Okay, clafoutis doesn't sound very manly.  I'll admit that. But this one is.
What is it, you ask? It's a French dessert made with black cherries. It can also be made with red cherries, blackberries or other fruit, but I'm going to stick to talking about cherries. A friend of mine described it as a cross between a pancake and a pudding.
I can see you're still confused.  How is a French dessert manly?
Because you can cook this one in the oven or over the coals.  And it's simple.
Picture this……
You finally worked up the courage to ask that gorgeous gal out and you want to impress her, but still be yourself.  Of course, you'll take her to a ball game because what is more romantic than that? Nothing. You go early so you can tailgate and have time to chat (a.k.a. flirt) with her. You set up your BBQ, you get the coals started.
You sit with her and chat as you both pit some cherries because chatting is much more comfortable when you both have something to do. Besides, as she's looking down from time to time to make sure she doesn't cut herself with the knife, you can steal glimpses of her cleavage without being detected. You reach down and pick up a pitted cherry and bring it to her lips.  She smiles and then opens her mouth, allowing you to put it on her tongue.  As she closes her mouth she lightly sucks your fingers for just a moment as you pull them away.
When the coals are ready you ask her to pass you the Dutch oven, scoring points with her because you know what a Dutch oven is and scoring even more points because you have one. She's utterly flabbergasted and impressed that you know how to use it. You butter the bottom and throw in the cherries and then quickly mix the rest of the batter from the ingredients you prepared and premeasured at home.  You ask her if she'd like to pour the batter in, making it your (plural) clafoutis rather than just your (singular) clafoutis.
You put on the lid, and put the pot (Dutch oven) on the rack above the coals.  You add a few coals on top of the pot. You throw some steaks onto the rack next to the clafoutis. Somewhere along the way, she asks what it is that you're making and you tell her it's clafoutis, a French dessert originating from the Limousin region of France. She's impressed again.
The steaks are finished a few minutes before the dessert.  You serve them on real plates with real silverware (trust me on this) and you hand her a cloth napkin. You eat your steak and engage in witty conversation, taking the lid off the clafoutis for the last 5 minutes. When it's finished, you take it off the coals and serve it on two dessert plates, sprinkling the powdered sugar on top just before you hand it to her.  She smiles.  You put some on a fork and lift it to her mouth, telling her you want her to have the first bite. She loves it, of course, and you finish eating before you clean up the area and head into the stadium.
You are officially the only man she's ever met who served her a gourmet meal, including a fancy French dessert, in the parking lot of a ball park. You have now entered the "unforgettable date" category, which puts you over half way where you want to go. You're going to have to figure the rest out yourself.
**********
So, how does that sound?
A few tips and thoughts….
What is a Dutch oven?  It's a thick cooking pot with a lid, and it's usually made of cast iron. Check out the photo above.
Do you have to use fresh cherries? It's better to use fresh cherries than frozen ones if you can.  Not only will the dessert taste much better, but you don't want to give up that opportunity to pit the cherries together.  And please, don't pull out your pocket knife for this.  You can use a cherry pitter or a paring knife, but as you always say, use the right tool for the job. If you have to use frozen cherries, you can, but make sure they are fully defrosted and drained. Just be aware that dumping in a bag of defrosted cherries is nowhere near as romantic as sitting knee to knee while you pit fresh cherries and exchange witty banter.
Is it really easy?  Yes! Prep cherries. Mix the easy batter. Cook. It doesn't get easier than that.
Where's the recipe?  Oh yeah, I almost forgot that. Here it is – Dutch Oven Cherry Clafouti